Coveo Announces Appointment of Brandon Nussey as Chief Financial Officer and Retirement of Jean Lavigueur
Appointment effective May 1, 2023
MONTREAL and SAN FRANCISCO, March 27, 2023 (GLOBE NEWSWIRE) -- Coveo Solutions Inc. ("Coveo" or the "Company") (TSX: CVO), a leader in AI platforms that transform digital experiences with intelligent search, recommendations, 1:1 personalization and merchandising, today announced that Jean Lavigueur plans to retire from his role as Chief Financial Officer and Corporate Secretary of the Company effective on May 1, 2023, after a distinguished 17-year career with the Company, and that Brandon Nussey, a seasoned finance and operations executive with extensive SaaS experience, will be appointed as Chief Financial Officer of the Company to succeed him. As part of the succession of the Chief Financial Officer role, Mr. Lavigueur will remain with the Company and transition into a senior advisor role. Among other things, he will remain involved in substantially all matters relating to the Company's fiscal year ending March 31, 2023, including supporting Mr. Nussey in connection with the 2023 year-end earnings cycle.

Mr. Nussey recently acted as Chief Operating Officer and, previously, Chief Financial Officer of Lightspeed Commerce (TSX and NYSE: LSPD), a global one-stop commerce platform for merchants around the world, where he successively led the finance, operations, HR, legal, IT, payment, financial services and integration functions. Prior to joining Lightspeed in 2018, Mr. Nussey served as Chief Financial Officer of D2L Inc., a SaaS-based education technology provider, and as Chief Financial Officer of Descartes Systems Group, a multinational technology company specializing in logistics and supply chain management software and cloud-based services for enterprise customers. Mr. Nussey has extensive SaaS experience, including in the enterprise software segment, and has led multiple transformative and other key initiatives throughout his career, including, most recently, Lightspeed's initial public offering on the TSX and subsequent dual listing on the NYSE, as well as many of its acquisitions and the integrations thereof. Mr. Nussey's past experiences, including in public company settings, paired with his intricate knowledge of Coveo's industry and addressable markets, makes him the ideal candidate to take on the role of Chief Financial Officer of the Company.
"I am incredibly excited to announce that Brandon Nussey will be joining the Company as CFO on May 1, 2023," said Louis Têtu, Chairman and Chief Executive Officer of the Company. "Brandon is a highly respected business executive in the SaaS space. He brings a solid track record of delivering results and meticulously growing large, global SaaS companies. I am confident his significant leadership experience and deep knowledge of our industry and addressable markets will serve Coveo as we continue to work hard to scale the business and deliver value to all of our stakeholders. On a personal level, Brandon's values are deeply aligned with those of the other members of our executive team and our stakeholders, which makes him a natural addition to our core leadership team. Needless to say, everyone is excited to have him on board."
Mr. Nussey will succeed to Mr. Lavigueur effective May 1, 2023. Mr. Lavigueur joined Coveo in 2006 and during his tenure as Chief Financial Officer, the Company went from a product start-up to an industry leader with more than 725 employees. Mr. Lavigueur was instrumental in the development and execution of Coveo's strategic plan, including initiating and completing several strategic acquisitions and partnerships and, most recently, an initial public offering on the Toronto Stock Exchange.
"I want to thank Jean from the bottom of my heart for his many years of invaluable service to Coveo as CFO and for the immeasurable impact he has had on the Company, our stakeholders, and all of our employees," said Mr. Têtu. "Over his years of service, Jean has contributed immensely to the success of Coveo, including the building of world-class finance, procurement, HR, legal and IT functions, a strong balance sheet supported by a responsible financial infrastructure and, more importantly, a team that positions the Company for continued success as he retires. On a more personal note, Jean has been an amazing partner. I am privileged to have had the opportunity to work with him over the last 30 years, including these last 17 years at Coveo. He will be missed by all, and we wish him all the best in his retirement."
The Chief Financial Officer succession is part of Coveo's robust, long-term executive succession plan. As previously mentioned, following his retirement as Chief Financial Officer and Corporate Secretary of the Company, Mr. Lavigueur will transition to a senior advisor role to ensure a smooth succession.
Forward-Looking Information
This press release contains "forward-looking information" and "forward-looking statements" within the meaning of applicable securities laws (collectively, "forward-looking information"). This forward-looking information is identified by the use of terms and phrases such as "may", "would", "should", "could", "might", "will", "achieve", "occur", "expect", "intend", "estimate", "anticipate", "plan", "foresee", "believe", "continue", "target", "opportunity", "strategy", "scheduled", "outlook", "forecast", "projection", or "prospect", the negative of these terms and similar terminology, including references to assumptions, although not all forward-looking information contains these terms and phrases. In addition, any statements that refer to expectations, intentions, projections, or other characterizations of future events or circumstances contain forward-looking information. Statements containing forward-looking information are not historical facts but instead represent management's expectations, estimates, and projections regarding future events or circumstances.
Forward-looking information is necessarily based on a number of opinions, estimates, and assumptions that we considered appropriate and reasonable as of the date such statements are made. Although the forward-looking information contained herein is based upon what we believe are reasonable assumptions, actual results may vary from the forward-looking information contained herein. Certain assumptions made in preparing the forward-looking information contained in herein include, without limitation: our ability to capitalize on growth opportunities and implement our growth strategy; our ability to attract new customers, both domestically and internationally; the success of our efforts to expand our product portfolio and market reach; our ability to maintain successful strategic relationships with partners and other third parties; our future capital requirements; the available liquidity under our revolving credit facility; the accuracy of our estimates of market opportunity and growth forecasts; our success in identifying and evaluating, as well as financing and integrating, any acquisitions, partnerships, or joint ventures; our ability to execute on our expansion plans; and the future impact of the COVID-19 pandemic. Moreover, forward-looking information is subject to known and unknown risks, uncertainties, and other factors, many of which are beyond our control, that may cause the actual results, level of activity, performance, or achievements to be materially different from those expressed or implied by such forward-looking information, including but not limited to macro-economic uncertainties and the risk factors described under "Risk Factors" in the Company's most recently filed Annual Information Form available under our profile on SEDAR at www.sedar.com. There can be no assurance that such forward-looking information will prove to be accurate, as actual results and future events could differ materially from those anticipated in such information. Accordingly, prospective investors should not place undue reliance on forward-looking information, which speaks only as of the date made.
Moreover, we operate in a very competitive and rapidly changing environment. Although we have attempted to identify important risk factors that could cause actual results to differ materially from those contained in forward-looking information, there may be other risk factors not presently known to us or that we presently believe are not material that could also cause actual results or future events to differ materially from those expressed in such forward-looking information.
You should not rely on this forward-looking information, as actual outcomes and results may differ materially from those contemplated by this forward-looking information as a result of such risks and uncertainties. Additional information will also be set forth in other public filings that we make available under our profile on SEDAR at www.sedar.com from time to time. The forward-looking information provided in this press release relates only to events or information as of the date hereof, and are expressly qualified in their entirety by this cautionary statement. Except as required by law, we do not assume any obligation to update or revise any forward-looking information, whether as a result of new information, future events, or otherwise, after the date on which the statements are made or to reflect the occurrence of unanticipated events.
About Coveo Solutions Inc.
We believe that relevance is critical for businesses to win in the new digital experience economy and to serve people the way they expect while ensuring optimal business performance, and that applied AI is an imperative to achieve these goals.
Coveo is a market-leading AI-powered relevance platform that injects search, 1:1 recommendations, personalization, and merchandising intelligence into digital experiences such as commerce, service, website, and workplace applications. Coveo's platform is cloud-native SaaS, multi-tenant, API-first, and headless, and can easily integrate into almost any digital experience. Our solutions are designed to provide tangible value to our customers by helping to drive improvements in conversion, revenue, and margins, reduce customer support costs, increase customer satisfaction and website engagement, and improve employee proficiency and satisfaction.
Our AI platform powers digital experience relevance for many of the world's most innovative brands, serving millions of people and billions of interactions, and is supported by a large network of global systems integrators and implementation partners. Coveo is a Salesforce ISV Partner, a Global SAP CX Partner, and an Adobe Accelerate Exchange Partner.
Coveo is a trademark of Coveo Solutions Inc.
Stay up to date on the latest Coveo news and content by subscribing to the Coveo blog, and following Coveo on LinkedIn, Twitter, and YouTube.
Contact Information
Paul Moon
Head of Investor Relations
investors@coveo.com
Highwire PR
Coveo
media@coveo.com
+1 418 263-1111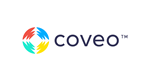 Source: Coveo Solutions Inc.

Released March 27, 2023