Coveo revolutionizes product and knowledge discovery with generative answering for B2C and B2B commerce enterprises
Following Customer Service, Website and Workplace customers, Coveo Commerce customers can now get early access to Coveo Relevance Generative Answering
MONTREAL and SAN FRANCISCO, Oct. 19, 2023 (GLOBE NEWSWIRE) --  Coveo (TSX:CVO), a market-leading platform that enables individualized, connected, and trusted digital experiences at scale with Semantic search, AI recommendations, and GenAI answering, today announced early access to Coveo Relevance Generative Answering™  for B2B and B2C commerce enterprises. This expands the program to give manufacturers, distributors, and retailers access to test Coveo's generative answering solution at enterprise scale on their ecommerce sites. This new capability will revolutionize product and knowledge discovery with access to secure enterprise-ready generative answering for Coveo Commerce customers. General availability is expected later this year.

Coveo Relevance Generative Answering empowers customer experiences with generative AI question-answering capability by leveraging Large Language Models (LLMs) on top of the leading unified indexing functionality of Coveo's platform. An enterprise-ready solution, Coveo Relevance Generative Answering is scalable, secure, traceable, and provides accurate and relevant answering from multiple sources of content. Coveo Relevance Generative Answering is a natural augmentation of Coveo's AI models and can be injected to improve each touchpoint across the customer journey from early in the sales cycle to post-sales customer service.
"We believe that augmenting current commerce experiences with GenAI has the potential to change the way customers shop and buy. In traditional in-store interactions, customers naturally ask product-related questions. Replicating this ease of inquiry in an online environment has been a challenge, until now," said Laurent Simoneau, President and CTO of Coveo. "We're confident that our generative answering capability will provide businesses with a way to differentiate their digital storefront experience by putting their domain expertise and knowledge at the forefront. It will enable brands to share product information with customers in a more conversational way. This is a particularly important component of the go-to-market strategy for many of our B2B customers."
"We're thrilled to open up our Relevance Generative Answering early access program to B2B and B2C commerce brands and use cases," said Simon Langevin, VP Product, Coveo. "Our offering allows companies to incorporate generative answering into their customer-facing experiences in a way that is grounded and secure. Our customers who have rich content sources, including 'how to' articles and technical specifications, will readily embrace this as they recognize that educating the buyer on the products they sell is a critical aspect of the purchase journey."
Coveo announced the addition of enterprise-ready generative answering to the Coveo Platform™ in March 2023. In June, Coveo launched its Relevance Generative Answering Design Partner Program, working with 45 customers, including Informatica, Synopsys, VMware, Xero, and Zoom. In September 2023, Coveo announced that its Relevance Generative Answering offering went live across Coveo's own customer self-serve experiences. Xero, the global small business platform, also announced that in partnership with Coveo, it has implemented generative answering within Xero Central to help deliver accurate support answers faster for its millions of customers and users.
Register for the New in Coveo Commerce webinar on October 19, 2023 at 11am ET to find out more about Coveo's Relevance Generative Answering offering.
For more information about Coveo Relevance Generative Answering for Commerce, please visit Coveo's blog.
About Coveo
Coveo powers the digital experiences of the world's most innovative brands serving millions of people and billions of interactions across every digital experience. After a decade of enriching our market-leading platform with forward-thinking global enterprises, we know what it takes to gain a trusted AI-experience advantage.
We strongly believe that the future is business-to-person, that experience is today's competitive front line, a make or break for every business.
For enterprises to achieve this AI-experience advantage at scale, it is imperative to have an Enterprise Spinal and composable ability to deliver AI semantic search and generative experiences at each customer and employee interaction.
Our single SaaS AI platform and robust suite of AI & GenAI models are designed to transform the total experience from CX to EX across websites, ecommerce, service, and workplace. Powering individualized, trusted, and connected experiences across every interaction to delight customers and augment employees, and drive superior business outcomes. Our platform is certified ISO 27001, HIPAA compliant, SOC2 compliant, and 99.999% SLA resilient. We are a Salesforce Summit ISV Partner, an SAPⓇ Endorsed App, and an Adobe Gold Partner.

Coveo is a trademark of Coveo Solutions, Inc.

Stay up to date on the latest Coveo news and content by subscribing to the Coveo blog, and following Coveo on LinkedIn, Twitter, and YouTube.
Forward-Looking Information
This press release contains "forward-looking information" and "forward-looking statements" within the meaning of applicable securities laws (collectively, "forward-looking information"). This forward-looking information is identified by the use of terms and phrases such as "may", "would", "should", "could", "might", "will", "achieve", "occur", "expect", "intend", "estimate", "anticipate", "plan", "foresee", "believe", "continue", "target", "opportunity", "strategy", "scheduled", "outlook", "forecast", "projection", or "prospect", the negative of these terms and similar terminology, including references to assumptions, although not all forward-looking information contains these terms and phrases. In addition, any statements that refer to expectations, intentions, projections, or other characterizations of future events or circumstances contain forward-looking information. Statements containing forward-looking information are not historical facts but instead represent management's expectations, estimates, and projections regarding future events or circumstances.
Forward-looking information is necessarily based on a number of opinions, estimates, and assumptions that we considered appropriate and reasonable as of the date such statements are made. Although the forward-looking information contained herein is based upon what we believe are reasonable assumptions, actual results may vary from the forward-looking information contained herein. Certain assumptions made in preparing the forward-looking information contained in herein include, without limitation: our ability to capitalize on growth opportunities and implement our growth strategy; our ability to attract new customers, both domestically and internationally; the success of our efforts to expand our product portfolio and market reach; our ability to maintain successful strategic relationships with partners and other third parties; our future capital requirements; the available liquidity under our revolving credit facility; the accuracy of our estimates of market opportunity and growth forecasts; our success in identifying and evaluating, as well as financing and integrating, any acquisitions, partnerships, or joint ventures; our ability to execute on our expansion plans; and the future impact of the COVID-19 pandemic. Moreover, forward-looking information is subject to known and unknown risks, uncertainties, and other factors, many of which are beyond our control, that may cause the actual results, level of activity, performance, or achievements to be materially different from those expressed or implied by such forward-looking information, including but not limited to macro-economic uncertainties and the risk factors described under "Risk Factors" in the Company's most recently filed Annual Information Form available under our profile on SEDAR+ at www.sedarplus.ca. There can be no assurance that such forward-looking information will prove to be accurate, as actual results and future events could differ materially from those anticipated in such information. Accordingly, prospective investors should not place undue reliance on forward-looking information, which speaks only as of the date made.
Moreover, we operate in a very competitive and rapidly changing environment. Although we have attempted to identify important risk factors that could cause actual results to differ materially from those contained in forward-looking information, there may be other risk factors not presently known to us or that we presently believe are not material that could also cause actual results or future events to differ materially from those expressed in such forward-looking information. You should not rely on this forward-looking information, as actual outcomes and results may differ materially from those contemplated by this forward-looking information as a result of such risks and uncertainties. Additional information will also be set forth in other public filings that we make available under our profile on SEDAR+ at www.sedarplus.ca from time to time. The forward-looking information provided in this press release relates only to events or information as of the date hereof, and are expressly qualified in their entirety by this cautionary statement. Except as required by law, we do not assume any obligation to update or revise any forward-looking information, whether as a result of new information, future events, or otherwise, after the date on which the statements are made or to reflect the occurrence of unanticipated events.
Highwire PR
Coveo
media@coveo.com
+1 418-263-1111
A photo accompanying this announcement is available at https://www.globenewswire.com/NewsRoom/AttachmentNg/31e3a05c-c230-4552-a51b-eac4db800bc9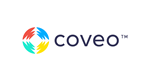 Released October 19, 2023