Coveo to Host November 2023 Capital Markets Day
Coveo to also Present at Upcoming November 2023 Investor Conferences
MONTREAL and SAN FRANCISCO, Oct. 24, 2023 (GLOBE NEWSWIRE) -- Coveo Solutions Inc. ("Coveo" or the "Company") (TSX: CVO), the leading provider of enterprise AI platforms that enable individualized, connected, and trusted digital experiences at scale with Semantic search, AI recommendations, and GenAI answering, will host its 2nd Annual Capital Markets Day on Thursday, November 16th, 2023, at the TMX Market Centre in Toronto.
During this half-day in-person event, beginning at 8:30 am ET, members of the senior management team will present on the Company's differentiated AI-powered relevance platform, growth strategy, and customer success, among other topics.
The event is limited to the financial analyst and institutional investor community and space is limited. To register, please use the following LINK.
In addition, Coveo will present and participate in one-on-one investor meetings at the following conferences:
2023 RBC Capital Markets Global Technology, Internet, Media and Telecommunications Conference, November 14, 2023, New York
TD Securities Technology Conference, November 21, 2023, Toronto
UBS Global Technology Conference, November 28, 2023, Scottsdale
If available, webcast replays will be accessible on the Company's investor relations website: https://ir.coveo.com/en
About Coveo
Coveo powers the digital experiences of the world's most innovative brands serving millions of people and billions of interactions across every digital experience. After a decade of enriching our market-leading platform with forward-thinking global enterprises, we know what it takes to gain a trusted AI-experience advantage.
We strongly believe that the future is business-to-person, that experience is today's competitive front line, a make or break for every business.
For enterprises to achieve this AI-experience advantage at scale, it is imperative to have an Enterprise Spinal and composable ability to deliver AI semantic search and generative experiences at each customer and employee interaction.
Our single SaaS AI platform and robust suite of AI & GenAI models are designed to transform the total experience from CX to EX across websites, ecommerce, service, and workplace. Powering individualized, trusted, and connected experiences across every interaction to delight customers and augment employees, and drive superior business outcomes. Our platform is certified ISO 27001, HIPAA compliant, SOC2 compliant, and 99.999% SLA resilient. We are a Salesforce Summit ISV Partner, an SAP® Endorsed App, and an Adobe Gold Partner.
Coveo is a trademark of Coveo Solutions, Inc.
Stay up to date on the latest Coveo news and content by subscribing to the Coveo blog, and following Coveo on LinkedIn, Twitter, and YouTube.
Contact Information
Paul Moon
Head of Investor Relations
investors@coveo.com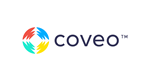 Source: Coveo Solutions Inc.

Released October 24, 2023