Coveo retailer survey on Black Friday – Cyber Week evolution shows how winning brands are boosting profitability by getting personal
90% of retailers surveyed report that personalization will transform industry-wide special sales events as we know them within the next three years
MONTREAL and NEW YORK, Nov. 08, 2023 (GLOBE NEWSWIRE) -- Coveo (TSX:CVO), the leading provider of enterprise AI platforms that enable individualized, connected, and trusted digital experiences at scale with semantic search, AI recommendations, and GenAI answering, today announced the release of a new research report that provides a glimpse into retailers' mindsets and expectations as we approach the holiday season. The report, titled, "Black Friday to Cyber Week Evolution: What Are the Winning Strategies, Now?" features findings from a survey conducted by RSR Research in August 2023 with qualified U.S.-based retail respondents representing 92 retailers, most with revenues above $250M.

While most retailers surveyed do still rely on the Black Friday/Cyber Week peak for driving revenues, Coveo's holiday report findings show that the top performers are using better strategies to help boost profitability around the holiday season. Retail "winners" are focused on increasing average transaction value through more relevant and personalized offers, strategically timing inventory sell-through, and being proactive about their technology decisions.
"It's clear from our research that industry-wide events are here for the foreseeable future – but no longer as mass marketing, "one-size-fits-all" events. Gone are the days when you get people in the door with a sale on one item. It's now all about personalized offers and deals," said Brian Kilcourse, managing partner at RSR Research. "The research highlighted that over-performing retailers are aware of this strategy and using it to their benefit."
"Retailers poised for the most success this holiday season understand that Black Friday is not just about capitalizing on buzz – it's about deliberate, hyper-personalized, and focused strategies that reach and entice each shopper wherever they are on their journey," said Lisa Grayston, General Manager of Commerce at Coveo. "Experimentation is also key as generative AI has been gaining ground - and may become the next big pillar of relevance and conversational search in commerce as we look to the future of shopping."
Key findings:
Black Friday and Cyber Monday can still produce powerful results when done right. While 84% of retailers feel that consumers can get deals anytime they want (48% strongly agree, 36% somewhat agree), the majority (58%) of retailers surveyed strongly believe that holiday events are still a powerful source of revenue. This figure rises to 76% when looking solely at the above-average performers within the same group and drops down to 24% when just surveying the underperforming segment. Winners are no longer looking at the event as a way to drive foot traffic – but to create brand excitement and maximize the experience for shoppers.
High-performing retailers have differing goals for holiday promotions with 60% wanting to increase average transaction values as compared to 35% for lower performing retailers. Top performers also sell-through inventory before products reach end-of-cycle (60%). On the flip side, 62% of lower performing retailers are focused on getting rid of surplus merchandise, while only 48% of top performing retailers listed this as a holiday promotion strategy.
The vast majority of retailers agree that shoppers will continue to take advantage of special event promotions using personalization to increase profitability. In fact, 90% of respondents say that hyper-personalized offers are already happening, moving from a "nice-to-have" to a "must-have" capability. Furthermore, 90% report that hyper-personalization will end industry-wide special sales events as we know them within the next three years. Finally, 70% say they will spend less on mass market promotions but expect to achieve greater sales through personalized offers over the next two years.
Getting the basics right is critical during holiday peaks. More than 50% of high performing retailers tout the importance of: easy returns, price or product availability, and social proof badging. Also, 55% of high performers say they expect to shift more than 41% of their sales value towards online shopping and fulfillment during Black Friday. For comparison, only 32% of underperformers report doing the same.
High performing retailers are fine-tuning loyalty-building experiences. Nearly two-thirds of high performers, as opposed to 35% of average/underperformers, are extending the return period during the holiday season. Winners (62%) are changing online search categories to make discoverability easier for shoppers such as "gifts for dads", compared to only 41% of underperformers. And winners (66%) are using search engines to boost products right on the product listing pages.
When it comes to technology, planning is key. More than half (52%) of retailers say they will have implemented generative AI in their contact center. Similarly, 52% will have implemented some automated capabilities in anticipation of increased call center volume this holiday season. Above-average performers are at least twice as likely to proactively engage IT with a formal SLA (service level agreement) for higher traffic and volume support during the holiday season. Furthermore, 32% of retailers say they are experimenting with GenAI capabilities now, possibly for implementation in the short-term.

To download the full report, here.
About Coveo
Coveo powers the digital experiences of the world's most innovative brands serving millions of people and billions of interactions across every digital experience. After a decade of enriching our market-leading platform with forward-thinking global enterprises, we know what it takes to gain a trusted AI-experience advantage.
We strongly believe that the future is business-to-person, that experience is today's competitive front line, a make or break for every business.
For enterprises to achieve this AI-experience advantage at scale, it is imperative to have an Enterprise Spinal and composable ability to deliver AI semantic search and generative experiences at each customer and employee interaction.
Our single SaaS AI platform and robust suite of AI & GenAI models are designed to transform the total experience from CX to EX across websites, ecommerce, service, and workplace. Powering individualized, trusted, and connected experiences across every interaction to delight customers and augment employees, and drive superior business outcomes. Our platform is certified ISO 27001, HIPAA compliant, SOC2 compliant, and 99.999% SLA resilient. We are a Salesforce Summit ISV Partner, an SAPⓇ Endorsed App, and an Adobe Gold Partner.
Coveo is a trademark of Coveo Solutions, Inc.
Stay up to date on the latest Coveo news and content by subscribing to the Coveo blog, and following Coveo on LinkedIn, Twitter, and YouTube.

Highwire PR
Coveo
media@coveo.com
+1 418-263-1111
A photo accompanying this announcement is available at https://www.globenewswire.com/NewsRoom/AttachmentNg/617f2e8d-2801-44fe-93a5-bc1cfc578524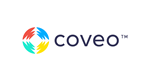 Source: Coveo Solutions Inc.

Released November 8, 2023